Cold Laser Therapy At An Affordable Price!
Special Sale 33% Off! Originally $299
Now On Sale For $199 And Free USA Shipping! Instructions and Velvet Carrying Pouch Included
At 50mw The Laser Therapy Pen offers powerful relief for aches and pains.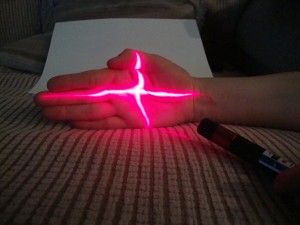 Benefits of Cold Laser Therapy
• Relieves acute and chronic pains
•Increases the speed, quality and tensile strength of tissue repair
• Increases blood supply
• Stimulates the immune system
• Stimulates nerve function
• Develops collagen and muscle tissue
• Helps generate new and healthy cells tissue
• Promotes faster wound healing and clot formation
• Reduces inflammation
• May significantly reduce bone on bone knee pain
• May reduce tinnitus (ringing in the ears)
• May reduce Multiple Sclerosis symptoms http://www.warsawvoice.pl/WVpage/pages/article.php/22147/article • May help promote healthy hair regrowth
• The Laser Therapy Pen when used over certain acupuncture points may aid in weight loss, reduce anxiety, depression and may help with allergies : http://www.aipro.info/drive/File/Meridian%20Laser%20Technique%20Manual.pdf
• Animals, dogs, cats, horses, etc can receive the same pain relieving/rejuvenating benefits from laser therapy as well: http://www.youtube.com/watch?v=DK080oT-GvY#t=152
The powerful 50mw beam of the Laser Therapy Pen generates almost no heat. This is known as a "cold laser therapy" , "low level laser therapy" (LLLT) or a laser for healing. The 660nm wavelength of this laser looks hot but is cool to the touch and actually very soothing. The line generating beam pattern was chosen so that large or small areas of pain could be dealt with easily. AC power is utilized for consistent laser output and reliability. No batteries or chargers to worry about.
The Laser Therapy Pen was originally $299
Now on sale for $199 with free shipping within the continental US!
If you do not have a Paypal account you can still use Paypal as a guest. We also accept a cashier's check or money order for $199. Send to:
Steve Levine
2536 Rising Legend Way
Las Vegas NV, 89106
Infrared 808nm 100mw Lasers Now In Stock. Limited Quantities Available.
If you need a laser with deeper penetration the Infrared 808nm laser is for you. Same design as above with AC power.
Special Sale 25% Off! Originally $399
Now on Sale for $299 with Free USA Shipping!
Portable Battery Powered 660nm 100mw Laser Therapy Pen Now In Stock! Originally $349 Now On Sale For $249 With Free USA Shipping.
The Battery Powered Laser Therapy Pen features a large circular beam pattern for greater coverage of painful areas and faster treatment times. Comes with lithium ion rechargeable batteries and a battery charger. Instructions included.
Reviews
The Laser Therapy Pen has worked wonders and began to help right away. One reason I'm happy to share my experience is neuropathy is difficult to treat. I got the Laser Therapy Pen because not only was the neuropathy getting worse but my feet were beginning to swell and my toes and feet were turning bright angry red and burning on fire. Scary! I found an ad for laser therapy from a chiropractor near me. He did a complete exam and confirmed that the swelling was related to the neuropathy. I could not afford his treatments, though I went home determined to save for them. I could not afford most of the lasers out there. When I found Steve's laser ad, I ordered it but was skeptical about whether it would work. It has worked like a miracle. The Laser Therapy Pen from Steve worked immediately to reduce inflammation and remove pain. Each time I used it my feet got better and better , to the point that now my feet are getting close to being completely normal! Amazing. So yes the laser therapy pen worked like a miracle. I found Steve to be kind and honest. I would buy from Steve again. Thanks Steve, Alice Suthers
____________________________________________________________________________________
Steve, I purchased a laser from you about two months ago and it's been the most helpful device I have ever had. First of all I am what you might call a poster child for being rode hard and put away wet in my life. From commercial fishing, delivering furniture for ten years, to bouncing at bar and the occasional week end brawl for fun to spending years in the ring. After receiving the laser I noticed a few days later the pain dwindling in my back, legs and feet. My back spasmed up and a quick three minute treatment took the pain out and was on my way.I have helped other since then and the results have all been positive. Since I have purchased the laser there have been two clinics open advertising pain relief by laser treatments with in a twenty mile radius from my home. I'm glad I purchased mine from Steve and have been saving money and relieving my pain everyday. In closing this device saves people money and pain. Roy ________________________________________________________________________________
I've had lower back pain for far too many years. It's the kind of pain that results in an electric shock when you bend the wrong way. And you're stooped over since it is impossible to stand straight. At one point, I had to use crutches just to get around. These episodes could last up to 3 months. Doctor's and chiropractors offered temporary relief. Out of desperation, I would try anything. Ice packs, heating pads, pain killers, an electronic pulse machine, you name it. I finally tried this small laser device and to my great relief, the pain dissipated. I have it with me 24/7 so relief is always at hand. It's really amazing. What's more amazing is that many chiropractors are now offering laser therapy for a hefty fee. I really lucked out. Stan O LV NV ________________________________________________________________________________
Upon receiving my laser pen I was impressed with the design – it could not be better designed and so easy to carry. Had some pain in my right hand due to spending too much time on the computer and I usually work these points on my hands on myself – I have for years. When I first put the laser pen on the points I could literally feel the penetration and my muscles started ticking almost immediately, relieving the tension in the most amazing way – amazing enough for me to call Steve to tell him "Wow". Must say that I was pretty amazed at how deeply the ray went – it was very noticeable and immediate. Great invention – I would highly recommend it for anyone who uses acupressure on themselves or their clients. Lena G, CMT ______________________________________________________________________________
I was playing sand-volleyball 6 weeks ago. Going after a hit, I slammed my knees into the sand aggravating an old knee injury. For a month I applied ice and took anti-inflammatories to reduce the swelling with little success. After receiving the Laser Therapy Pen from Steve and applying it for 20 minutes I noticed the pain was reduced and the next morning the swelling was almost gone. It was an amazing result. Yahooooo! Brad S Utah ___________________________________________________________________________
Steve, I just wanted to thank you for the cold laser pen. I have been using it for 12 days on my Golden Retriever's knees & she is a different dog! She is no longer hurting & rarely limps. She had strained the ACL in both knees one year ago & it never has totally healed. Her vet, who is holistic, gave her a check-up today & was thrilled about how well the knees are healing! He even performed cold laser tx on her today before she left his office just to show me exactly how & where to use the laser to benefit her most! I am so happy with this laser. Savannah is too, as she goes to sleep when I start running the laser all around her knees! Thanks again, Debora Hutchens ___________________________________________________________________________
Hi Steve,
This is long overdue. I wanted to tell you about my poodle Max and the cold
laser pen. Max was diagnosed with a herniated disc shortly after Thanksgiving
and became paralyzed. The first vet said "we should consider our options"
(put him down) and the second said that he needed an immediate operation,
we knew it would not be cheap costing thousands of dollars. We opted for
none of the above. We took him a wonderful animal acupuncturist who
treated him with acupuncture and cold laser therapy. I saw such an
improvement in his pain level each time we went. I was told that maybe he
would be walking in 5 to 6 months and that he would need physical therapy
to learn to walk again. I bought the laser therapy pen from Steve in the beginning of January and started to use it twice a day for 10 minutes at a time on Max.
Within 2 months of his paralysis he started to walk….without physical
therapy. I didn't tell the acupuncturist what I was doing. She was always
amazed when I brought him in at how much he improved since the last visit.
After 1 more month we didn't need to bring him back. I did tell her what I
did so that she would realize the power she has with the cold laser.
Today Max is bouncing off the walls jumping and running, just being his
normal crazy dog self. It is like nothing ever happened to him. Thank you Steve.
Kindly,
Margaret ——————————————————————————————————————————————–
I ordered the laser from you and I used it on my little dog for his back and neck cause he indicated that he was in a lot of pain. I used it on him for about five minutes one time and he's shown no more signs of any pain and started playing again like a puppy. He's twelve years old! The soles of my feet have started hurting constantly a couple of months ago. It feels like someone has taken a 2×4 and beat the bottom of my feet. I used the laser one time for approximately five minutes on my right foot, but not on my left. The right foot hasn't hurt since, but left still hurts constantly. I have horrible joint pain in my elbows. I did the same thing with them ONE TIME. Almost a month later and my right elbow is just now starting to hurt occasionally. My sister has used it for relief from chronic arthritis pain in her hands. Her daughter used it to strengthen her immune system. She has a severely compromised immune system due to the removal of brain tumor when she was a teenager. So when she's exposed to something she gets sick. She was exposed to the pink eye. I didn't know this until my mom came down with it, but sometimes the initial symptoms don't occur within the eye, but in the glands in the neck. She used it once that night briefly and once for an even shorter session the next morning. She didn't come down with ANYTHING! My mom uses it on her chronic neck pain that's so bad even with taking pain meds the pain keeps her awake at night. Since she's been using the laser she's sleeping like a baby! I'm so thankful I found your site. I left the first laser with my family when I moved across country, but I now want to get another one for myself. Also since I suffer with virtually everything you offer healing sessions for and I've read over most of them I'm interested in getting the facial rejuvenation since it indirectly addresses so many other issues. Besides, I'm not happy with some of the changes I'm seeing in my face recently.

So maybe I can feel and look better…talk about a lot of bang for your buck! And I'm pretty stingy with my buck!!! So far this has been the best money I've ever spent! I could of saved more money than I care to think about if I had only found your site sooner. =$ Highest Regards, Rose _________________________________________________________________________________
I suffer with peripheral neuropathy, arthritis, spinal stenosis, and spinal degeneration. Yes I'm a wreck. After visiting a nearby clinic where I was given one 10 minute laser treatment for $200.00 I realized that there was something to this laser therapy, but no way could I afford the projected 40 treatments. So, after much study and searching I landed on Steve's web site. Now I have my own personal laser, thanks to Steve, and the laser does provide pain relief, but how to use it effectively. While I suffer with a multitude of pain, this laser has helped immensely. Two or three, five minute treatments a day has worked for me. While I do realize that the laser is not a miracle cure for all of my personal issues, I am aware that this does help with the pain. I would advise anyone who obtains one of Steve's lasers to plan your therapy, and be consistent with a schedule. One more very interesting incident occurred about a week ago. I accidentally cut the middle finger, to the bone, on my left hand with a razor sharp knife. Blood ran profusely, but after holding pressure on the wound with some paper towel, I got the blood flow nearly stopped. Then I thought of the laser which I carry in a nylon pouch which is attached to my belt. Why not do some field testing? I pulled the laser out and fired it up. Amazingly, a wound that would have certainly required stitches was treated with a laser. I treated the wound approximately six times on the first day and three or four on the second day. This laser therapy really works! William P __________________________________________________________________________________
Last week I purchased the laser therapy pen from energy healer Steve to speed heal some severe trauma I had experienced from a fall. During the course of our Q & A he suggested I utilize his skill as an energy healer and offered me a 10 minute demo. Working in the healing arts myself, I know the value of subtle energies. What have I got to lose except some "Pain and Inflammation" right? I felt so much better after the demo that I scheduled a follow up the next day for 30 minutes. During the sessions I could definitely feel something happening. Especially the longer one where I touched still point several times as my body received a renewal of energy. Afterwards I could see better and was more fully integrated in my body. With the inflammation subsiding almost instantly the uncomfortable and painful symptoms have dissipated to a very large extent and for the first time offered me the awareness that I am going to heal fully. Now I am in the process of letting go and restructuring on a cellular level with the continued support of the healing. I slept long and hard both nights and continue to rest a large portion of the 24 hour cycle. I am up functioning at a much higher level when I am up and the healing continues. The laser therapy pen arrived the afternoon of the second healing session and I put it to use immediately getting amazing results. I consider Steve to be a very gifted, authentic and grounded healer. "Thank You Steve" !!! ~ and YES ~ I recommend his energy sessions highly!!! LeAnn Latifah Harling ___________________________________________________________________________
I have had trigeminal neuralgia pain for 10 years … I tried many healing modalities including drugs , which worked briefly before becoming ineffective and I paid the price of horrific side effects. Last December, my chiropractor/functional neurologist suggested I try your cold laser. She had spoken with you about the product and was assured the laser was as effective as the lasers with all the 'bells and whistles' used by professionals. I began treating myself, using the battery powered cold laser, 4 minute sessions twice each day. Within two weeks, the pain was gone. I continue to use the laser 5 minutes each day as maintenance, as sinus swelling is an exacerbating factor for the neuralgia. I am so very happy to have found this tool. I have returned to an active life as massage therapist, bookkeeper for our family wood stove/solar business, grandma and running my own natural remedy manufacturing business thanks to the effectiveness of laser therapy. Thanks for making these lasers available. Karen LaVigne RN RMT ________________________________________________________________________________
I had difficulty walking on my right foot because of a bone spur on my heel. I tried ice, heel pads, and other means to mitigate the pain. However, it wasn't until I started using the laser pen that the soreness eventually subsided. I can now walk without pain in my right heel, probably because the laser reduced the inflammation around the bone spur and allowed the area to heal. I also use it when my knees and my thumbs become inflamed from trauma/arthritis. I feel very comfortable recommending this device for a variety of conditions. M Gould _______________________________________________________________________
The Laser Therapy Pen is very reasonably priced Steve was accommodating enough to send the laser second day mail when he didn't have to. I have rigorously used the laser and it helps! Steve has also been very available for questions in regards to the laser. No question this laser is worth it's weight for the power and price paid. It has helped with my arthritis. It is a nice go to for any type of ache or pain. Vern Miller .______________________________________________________________________
Energy Healer Steve explains the benefits of "Cold Laser Therapy" on YouTube: _____________________________________________________________
How Does Cold Laser Therapy Equipment Work?
According to Low Level Laser Therapy by Jan Turner & Lars Hode (Prima Books), low level laser therapy:
Reduces pain by causing the production of natural pain killer endorphins.
Reduces inflammation by suppressing inflammatory enzymes that create swelling, redness, pain, and heat and enhances the release of anti-inflammatory enzymes.
Enhances lymphatic drainage, which increases circulation and speeds healing.
Stimulates the release of helpful healing enzymes.
Releases tight muscles (both smooth and striated) that create chronic pain, joint problems, and decreased mobility.
Speeds bone repair by stimulating fibroblastic and osteoblastic proliferation.
Cold Laser Therapy in the 660nm wavelength appears to be antiviral, antifungal, and antiherpetic.
Laser irradiation of tissue cultures has shown that units of light energy (photons) are absorbed by enzymes, which react to light within the cell. Visible red light is absorbed within the mitochondria and the infrared light is absorbed at the cell membrane. In a mammalian cell, this results in a change in membrane permeability, increased ATP levels and increased DNA production. The photons picked up by the cell membrane result in improved membrane stability and increased activity of the ATP dependent Na/K pump. Because cell metabolism is influenced by Na/K movement across the membrane, increasing the gradient will affect the flow of ions and hence the overall metabolism of the cell. On a tissue level, it has been shown that irradiation by laser light results in increased collagen and epithelial production and production of new capillaries and an increase in density of the capillary bed. Reduction of pain and inflammation results from this treatment, as does the stimulation of nerve regeneration, muscle relaxation and atonicity (lack of muscle tone). There is also an indication that laser light therapy helps to increase the immune system response. Red light aids in the production of ATP in cells, which increases cellular health and energy. The radiation (energy) in normal cells stimulates adjacent cells to divide in the normal process of regeneration and healing. Laser light stimulates abnormal tissue to activate normal inter-cellular radiation, thus stimulating the normal healing process to start again. The photons produced by laser light normalize tissue by activating enzymes within cells. Once activated, enzymes within a cell trigger a chemical reaction in which more enzymes are activated in a domino-type effect. Low Level Laser Therapy has no effect on normal tissue. Photons will only be absorbed by cells that need the energy.
USA today article on new uses for laser therapy. Notice the last section on pain relief http://usatoday30.usatoday.com/news/health/2007-06-19-laser-therapy_N.htm
" Dr Oz on Cold Laser Therapy" http://www.doctoroz.com/videos/dr-ozs-pill-free-pain-solutions-pt-1 cold laser section starts at 2:40 seconds
Can cold laser therapy really help to regrow hair? Watch "The Doctors" TV show and find out…. Prof. Michael Hamblin assoc. professor from Harvard Medical School shares on Cold Laser Therapy: FAQ
Q.What is Cold Laser Therapy or Cold Laser Treatment? A. Cold Laser therapy is the use of low intensity laser photon energy to relieve pain and enhance the body's healing/rejuvenation process.
Q. How does Cold Laser Therapy work? A. Photons from the laser light excite the body's cells infusing them with energy, with the three primary reactions being, reduction of inflammation, cell regeneration, and increased blood flow.
Q. What is Cold Laser Therapy used for? A. There are many applications for Cold Laser Therapy, the most common uses are to relieve pain and stimulate the body's own healing process.
Q. What are the benefits of cold laser therapy? A. Cold Laser Therapy is a noninvasive, fast and effective modality that has been proven in clinical trials to reduce pain, reduce edema and promote healing.
Q. How safe is Cold Laser Therapy? A. Cold Laser Therapy has is very safe, the only precaution is to avoid shining the laser directly into the eyes.
Q. How deep into the tissue can laser light penetrate? A. The depth of penetration is dependent on multiple factors including mass and density, however since low level laser has been proven in clinical studies to effect subcutaneous cells; the point is low level laser does penetrate into the body.
Q. Can I use Cold Laser Therapy at home, on myself? A. Cold Laser Therapy is simple enough for any adult to use at home, at work, or on the go.
Q. Is Cold Laser Therapy painful? A. No, most people do not feel anything, for those that have reported a feeling, it is nothing more than a slight tingling.
Q. Who uses Cold Lasers? A. Cosmetic Surgeons, Chiropractors, Plastic Surgeons, Physical Therapists, Registered Nurses, Medical Doctors, Spas, and now YOU!
Q. How is Cold Laser Therapy administered? A. The Laser Therapy pen can be used directly on the skin or held further away, as far as 1ft to cover larger areas for example neck muscles, shoulder muscles, or back muscles.
Q. How long does it take for the laser to heal or improve a condition? A. Most people can feel a difference after the very first time using the Laser Therapy Pen. We recommend rating your pain level from 1-10, 10 being the worst, before you use the laser. Try one to three minutes on the area of pain and then rate your pain level again. Reapply the laser as needed or until you feel relief.
Q. What's the difference between Lasers vs. LED? A. The Laser Therapy Pen uses a super high quality industrial grade laser module that is fine tuned to 660nm along with glass optics to insure a high level of bio-stimulation and healing. LEDs are inexpensive, non-focused wide range light sources. The primary difference is in performance and depth of penetration, Laser light penetrates more deeply.
Q. What clinical studies have been conducted using Cold Laser? A. http://www.healinglightseminars.com/laser-therapy/laser-research-library/
Cold Laser Therapy Pen Specifications:
Wavelength: 660nm
Output Power:50mw
Duty Cycle: 1 hour on, 5 minutes off (extends the life of the laser)
Size: 4 3/4 L X 1/2 W
Operating Distance: 0-12 inches
Laser Classification: IIIB according to FDA classifications for lasers
Laser Module Life: Approx. >5000hrs
Warranty: 1yr
Laser Diodes manufactured in Japan and lasers assembled in the USA
These statements have not been evaluated by the FDA. This device is not intended to diagnose, treat or cure any disease. See your health care provider if symptoms persist.
For More info and research on the many uses of cold laser or LLLT (low level laser therapy): http://www.healinglightseminars.com/laser-therapy/laser-research-library/
Additional questions? email SCL555@cox.net or phone 702-768-1804
On Sale For $199 with free shipping within the continental USA! (email for Intl. shipping)
Return Policy: You have 14 days from the date your laser is received to review it. If it is not up to your satisfaction you may return it for a refund as long as it is in like new condition and in working order minus a 15% restocking fee or exchange. Please call 702-768-1804 before returning your laser.
[/vc_column_text][/vc_column][/vc_row]